The image: The Dinner Party, 1974-79 Judy Chicago, born 1939. Brooklyn Museum of Art.
Although this work by Judy Chicago represents a dinner party attended by notable women from many times and places (each place setting symbolizes a woman in history), I believe it also represents inclusive conversation in general.  It says, "All are welcome at this table."  This is why I chose it as a background image for this site.
The Title:  Museum Commons
At the AAM annual conference in  Houston (May 2011), I was inspired by the sessions at which Thought Leader Lewis Hyde presented his ideas. During a conversation sponsored by The Museum Group, Dr. Hyde spoke about the difference between antagonistic and agonistic modes of thinking and discussion. Antagonism, as he says in his recent book, Common as Air, "pits enemies against one another, each side trying to destroy or silence its opponents; agonism, on the other hand, is a conflict among equals, and while some will be more persuasive, none are silenced, all are in play." (p. 228)
This site is intended to be a place of agonistic discussion. A place where differing ideas are considered by equals, and where a serving of disagreement may be considered nourishing. A site where widely differing ideas may be sampled or set aside, enjoyed and/or critiqued. To put it bluntly- I'd like to host a stimulating dinner party, but not a food fight.
Newly expanded content in 2017
Originally begun as a blog, this site is now expanding to include my writings on a variety of topics: exhibitions that I helped to develop; articles on museum practice; writing on museums, race, and social justice.  I also hope to link often with another project, The Empathetic Museum.  I began writing about The Empathetic Museum on this site in 2013, but most information about the initiative now resides on The Empathetic Museum site.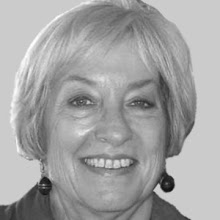 About Gretchen Jennings
I'm a longtime museum professional, having worked as an educator, administrator, and exhibition project director in a variety of museums – art, history, science, and children's museums.
I retired from the Smithsonian's National Museum of American History in 2007, and became editor of the museum journal Exhibitionist (now titled Exhibition) until 2014.
I travel to Kolkata, India periodically to teach museum studies for the National Council of Science Museums. And I am an active member of the Museums and Race 2016 initiative.  You can find out more about this project at www.museumsandrace2016.wordpress.com.