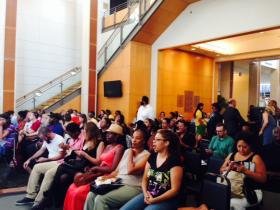 Participants at Town Hall meeting held in August 2014 by Missouri History Museum soon after the shooting of Michael Brown in Ferguson, MO.  Photo: Emanuele Berry|St. Louis Public Radio
How many of you were aware that, earlier this year, the AAM (American Alliance of Museums) Board  published a new policy statement on diversity and inclusion?  I somehow missed this, and so was grateful to find two recent posts by The Incluseum that provided insight and context for the policy.  The Incluseum interviewed two AAM representatives who spearheaded the development of the policy and who are now involved in following up with the membership: William Harris, Senior Vice President of Development and Marketing at  the California Science Center Foundation and Vice President of the AAM Board and Auntaneshia Staveloz, State and Community Partnerships Manager at  AAM and Board Officer at the Association of African American Museums.
William and Auntaneshia have asked for responses, and I wrote one as a guest post for The Incluseum.  You can find it here.