As many readers know I was in India from mid-July to early August this year, teaching a museum studies class for the National Council of Science Museums masters program in Kolkata.  My co-teacher Karen Lee of the Smithsonian's National Museum of American History and I also had a chance to travel north to Dehradun and Mussoori and to spend some time in New Delhi.  In looking back over our visit the themes of persistence and inclusion come to mind.
Persistence
I knew I had become a Kolkatan when I didn't bother to take my umbrella with me as I was dashing from  building to building during one of the daily July rains. People here seem to carry umbrellas only when the downpours are truly torrential, and that only keeps your head and shoulders dry. But life goes on despite the monsoon. I saw this on the Saturday that Karen and I were driven to Science City, a large science center in Kolkata. Waves from the flooded street were actually washing against our SUV as our driver expertly negotiated a path through the water to the museum. Our students were waiting there to complete their final project for the course we'd been teaching for two weeks: install improved labels and graphics  for exhibits they had analyzed for poor visitor response.
When we arrived, we discovered workers sweeping water from the floor of the museum, which had flooded in an extra heavy rain the night before.  The students had a terrible time mounting their labels;  the extreme humidity made masking tape almost useless.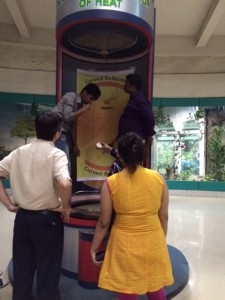 Finally, with layers of tape and a bit of hope, the exhibits were ready – but where were the visitors?  There was flooding everywhere. But in another hour or so, there they were, with more coming all the time.  I think that Kolkatans have the same philosophy about monsoon as Minnesotans have about blizzards– if you stay in whenever it snows (or rains) you'll never go out!  The students were able to collect new data about their revised labels and graphics, indicating that visitors were engaging with the exhibits and actually understanding them.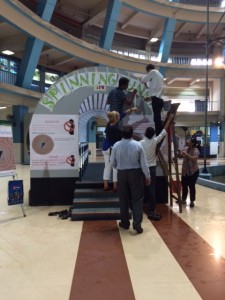 Inclusion
The annual International Conference of the Inclusive Museum  coincided with the last days of our visit to Delhi, and we were fortunate to attend the grand opening, with a welcome by Shri  Pranab Mukherjee, President of India, and by children's advocate Kailash Satyarthi, who won the Nobel Prize in 2014 with Malala Yousafsazi.
We also attended the first full day of the conference, organized by Dr. Armareswar Galla and the National Science Museum, Delhi,  on Friday, August 6.  Among the many intriguing sessions, all of which will be published as articles in upcoming issues of The International Journal of the Inclusive Museum, several stood out:
A plea from anthropologist and curator Dr. Tilak Bagchi to encourage the participation of indigenous communities in the co-creation of museums about them and their culture.  A few museums in India, such as Dr. Bagchi's Zonal Anthropological Museum in Udaipur and the Indira Gandhi Anthropological Museum in Bhopal, do this, but this approach could be utilized much more widely.
A presentation by Yurika Iwata, Tokyo National Museum, about adapting Western conservation practice to the intangible aspects of Buddhist art, where at times the meaning and context of the work are more important than its physical preservation.
"Chester Unlocked," an innovative project that brings long-hidden archaeological collections to the public square.  Dr. James Pardoe and Dean Paton of the Archaeology Department, University of Chester, UK, described a collaboration they developed between the Grosvenor Museum and local businesses.  The Grosvenor, with rich collections related to Chester's history as a town founded by the Romans in 79AD, is a small museum in an out-of-the-way location. Over a million people a year visit Chester to see the Roman and medieval structures in the city, but few visit the museum. Pardoe, who runs the museum studies program at Chester, and Paton, one of his students, persuaded the museum to place some of its collections on display in a local shopping mall  frequented by tourists–ancient Roman shoes in a protective case in a shoe store;Roman era wine vessels displayed behind glass in a wine shop.  The businesses agreed to cover the expenses of transporting and safely displaying the artifacts.  A widely distributed map guided visitors to the various shops with their precious artifacts. Apparently visitors loved following the artifact map, and the shops saw huge visitation.  If my notes are correct, not that many more visitors came to the museum, but the project organizers view this as an experimental model to be investigated further.  A future iteration may focus on placing artifacts in downtown shops in order to draw business back to town and away from big box stores outside the city.  You can follow Dean Paton @Big_Heritage, and learn more about his thinking and other projects at his website.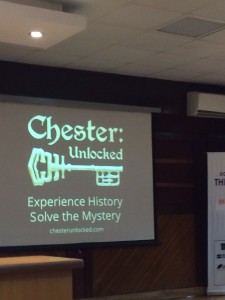 The next International Conference of the Inclusive Museum will be held at the National Underground Railroad Freedom Center in Cincinnati, OH in September, 2016. The call for papers is out now.  Think about attending and contributing.
If you are receiving this post by email and would like to comment, go to www.museumcommons.com
Or send a note to me @gretchjenn on Twitter.