This tweet, posted just the other day, caught my attention not because it was unique, but because it was similar to others.  I am struck by the contrast (small yet noteworthy) between broader museum awareness and action today and the silence of museums in fall, 2014, during the national conversation about the killing of Michael Brown in Ferguson, Missouri. A number of posts on this blog (search the tag "Ferguson"), 
documented
the few museum organizations and museum workers who responded in the immediate aftermath of Ferguson: The Association of African American Museums; The Missouri History Museum, museum blogger @adriannerussell, and museum educator Melanie Adams.  Since then I've followed the evolution of a wider museum awareness, especially after the December, 2014 
Joint Statement from Museum Bloggers and Colleagues on Ferguson and Related Events
.
In response to that joint blog, two museums associations, AASLH and NEMA, posted the statement on their websites and encouraged their members to use their institutions and collections to provide context and conversation about Ferguson (writ large). Of even greater consequence, two signers of the Joint Statement, @adriannerussell and @aleiabrown, began the #museumsrespondtoFerguson monthly twitter chat. Pretty much every month since December, 2014, this chat has engaged a growing range of museums and museum professionals in discussions about the field's responsibilities and connections to civic and social issues.  Monthly chats led by #museumworkersspeak and#museumhue have complemented and augmented the Ferguson twitter discussion.   We don't have data-based research on these conversations' effects on the field, but we have seen greater attention given by the American Alliance of Museums in its annual conferences in 2015 and 2016 to sessions on museums and social justice issues.
The Museums and Race
 project, which held a Gathering on Justice and Transformation during the most recent AAM Conference, and with AAM's support, is another growing and related movement.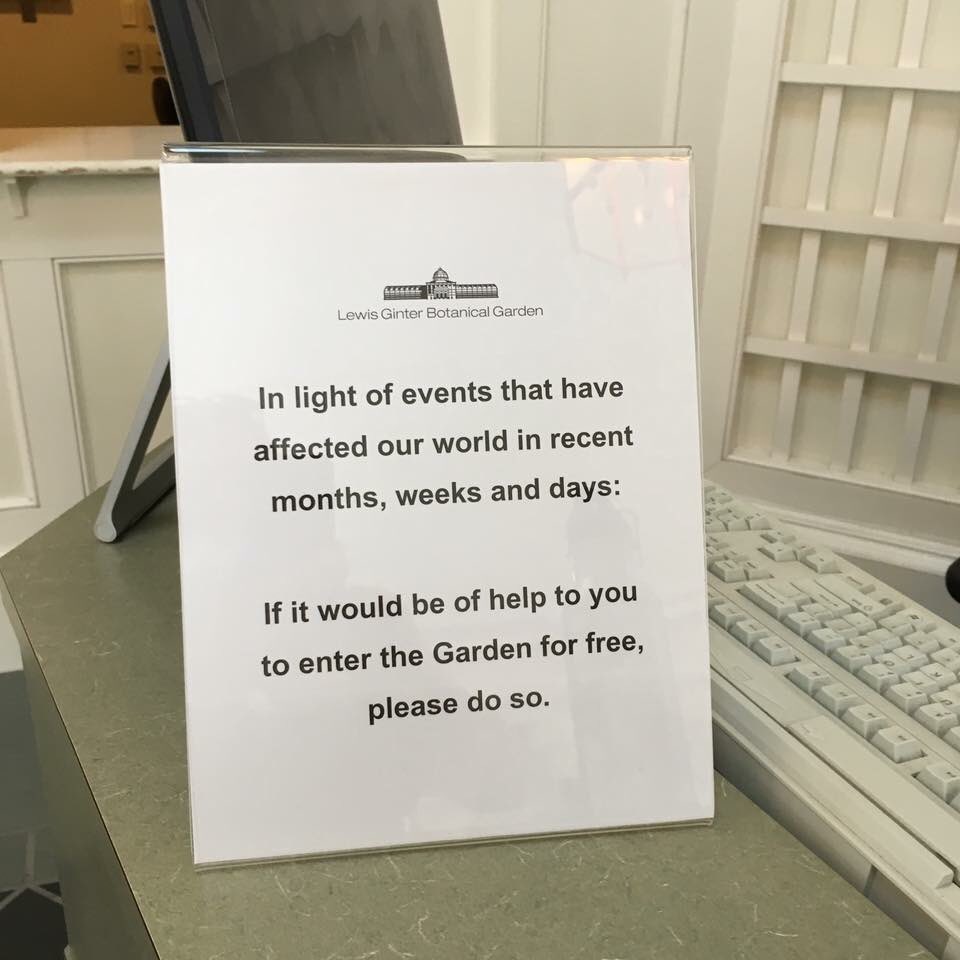 Since the police shootings of Alton Sterling and Philando Castile and the killing of 5 policemen in Dallas, the country is once again attempting without much success to unravel the skeins of race, gun culture, and violence that bind these incidents together.  While museums and museum associations are not yet part of the larger public conversation, the following examples point to a growing awareness among a variety of cultural institutions:
The sign posted above from the Lewis Gintner Botanical Garden near Richmond, VA.  Found on Facebook July 9, 2016.
On Sunday, July 10, "Arresting Patterns," a town hall on mass incarceration at the African American Museum of Philadelphia (@AAMP), based on an exhibition of the same name.
On Sunday, July 10, "Chaos or Community: A Discussion on Recent Events," at the Levine Museum of the New South (@LevineMuseum).
A week-long discussion hosted by @LevineMuseum under the hashtag #ComeToUnderstand daily at 12 noon EST.
A post by MoMA curator Thomas Lax, based on conversations with some 20 colleagues, entitled "How Do Black Lives Matter in MoMA Collections?"
A post today on museum empathy and social impact by Mike Murawsky of Art Museum Teaching.
See also the Maturity Model for an Empathetic Museum
Ongoing Twitter discussion about the events of the past week under #museumsrespondtoFerguson, #empatheticmuseum, #MuseumsAreUs, #YalePH2016
What are some implications of these disparate examples?
Clearly at least some museums are not allowing their collections alone (as in, We're an art museum, what do we know about race? We're a botanical garden, we shouldn't get involved in social issues) to define and limit their sense of themselves as civic institutions.
Instead, these disparate museums and cultural institutions display the imagination, the civic vision to address current social issues

using

their missions and collections. 
Persistent and regular public attention to the relationship of museums to race, white privilege, income inequality, and other social justice issues over many months in social media appears to be having an impact on the field, but
We need better documentation of these kinds of efforts by cultural institutions, and we need research on both the causes and effects of these efforts.  I'd love to hear from the Visitor Studies Association about any work in this area.
I want to emphasize that this post is not about self-congratulation.  After all, the terrible loss of life and social trauma emanating from Baton Rouge, St. Paul, and Dallas, is of much greater consequence than improvements in museum practice. Still, I firmly believe that the following is true:
Racism has polluted our cultural groundwater, and it seeps into church basements, well manicured lawns, and mean streets. It is our original sin, and it cannot be hidden. Museums–whose foundations penetrate the soil in our cities, towns, and rural areas, whose buildings occupy civic space, whose boards and directors are influential and respected citizens, whose members and visitors make up our communities–cannot stand to the side and let this sad national story repeat itself endlessly. We who are among the keepers of stories, both local and national, must participate. We must begin by looking at our own institutions, how they contribute to racism, and how they are suited to healing it. And then we must seek out others who are more experienced than we in the ways of racial healing and ask to join them. We are not above it nor outside it; we are in it, and we might as well get to work.  (Jennings, Museums and Social Issues, Vol. 10 No.2 Oct. 2015, p. 105)
If you are receiving this post as an email and wish to comment, please go to www.museumcommons.com or send me a tweet @gretchjenn.