As a follow-up to #Museum Blogger day on Twitter (March 19), co-organizers Jamie Glavic and Jenni Fuchs have created a kind of bloggers round robin to keep up the momentum. Various bloggers answer 11 questions about themselves and their blogs and then tap others to do the same.
 Uncatalogued Museum author Linda Norris has asked me to address the following questions.  I appreciate her invitation for lots of reasons but especially because this will get me posting again after a break of about five weeks – trying to catch up from my recent trip to India.
Share your favorite photo with us that you took at a museum or historic site.
This was taken on Museum Selfie Day in the children's gallery at the Birla Museum of Science and Technology in Kolkata.  I appear as a character from the Ali Baba stories.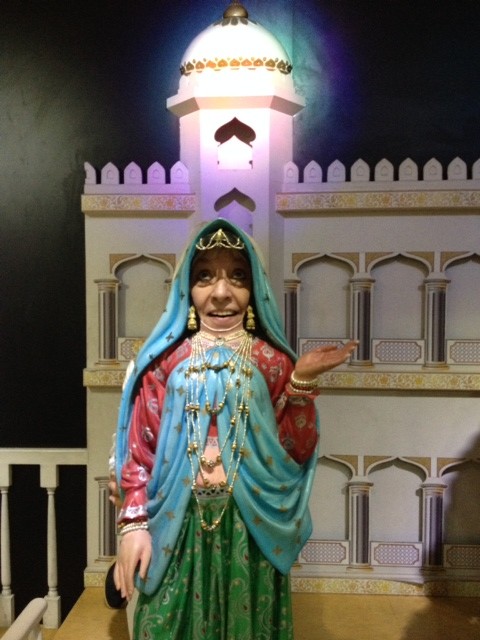 Who are you and what do you like about blogging?
About seven years ago I retired from my full time job at the Smithsonian's National Museum of American History where I had worked as project director for the exhibition Invention at Play, and also as an administrator coordinating the development of more education and evaluation input into the creation of exhibitions.  Since my "retirement," I have been serving as the editor of Exhibitionist, the journal of the National Association for Museum Exhibition.  I also began going to Kolkata, India in 2009 to teach in an MS program in museum studies there, and have been four times–about every 18 months.  I was there in January and posted a couple of blogs about my students.  And in summer 2011 I began blogging at Museum Commons .
I wanted to write about topics that are often discussed privately by folks in museums, but that don't necessarily get aired publicly.  I realized that it's difficult (even risky) for many people still working in the field to be vocal about some of the issues that most concern them.  Since I work on my own, I can afford to raise sensitive issues, and I have–about the relative lack of power of museum educators; about the reluctance of museums to address LGBT issues; about sexual harassment; about museums and questions of race.  I've written several posts about history museums' reluctance to deal with the Trayvon Martin case   
What I like best about blogging is that, like all writing, it makes me think and it helps me think. It enables me to concretize general thoughts and ideas about museums that I've had for a long time.
What search terms lead people to your blog?
I wish that many of the terms listed above, as well as the phrase "the Empathetic Museum," about which I have written a great deal, would lead people to my blog, and in fact these tags did until I decided to change platforms in late 2013. I went from Blogger to WordPress, and migrated the blog and former posts.  But, if you type in most of the tags I've used, you'll be told by Google that my blog no longer exists; Blogger does not forward you to the new WordPress site.   So this is a good place to say that Museum Commons and all my past posts do exist at www.museumcommons.com
Which post on your blog is your personal favorite?
I think the several posts that I wrote in 2013 on The Empathetic Museum are my favorites to date.  They generated lots of discussion, not so much on the blog site itself (I seem to get many more comments on various LinkedIn group sites) but in other media.  From these posts came a Pop-Up Session at AAM's annual conference in Baltimore; an interview on Carol Bossert's radio show "Museum Life" on VoiceAmerica, and an interview  with Edwin Rutsch of The Center for the Creation of a Culture of Empathy.  Edwin then interviewed a number of other museum professionals interested in empathy, and you can find them all on YouTube if you search for "Creating the Empathetic Museum."
If you had a whole week just to blog: which subject would you like to thoroughly research  and write about?
I'm very interested in the ways in which race and racism are interwoven into our history and culture.  There is more public acknowledgement of this today than ever before, yet the topic is still highly sensitive and somewhat taboo.  This is especially true for museums.  There is one blogger whom I read regularly who does address issues of race, especially in interpretation of historic sites.  Check out Max Van Balgooy's blog Engaging Places.  Even though I can't put in a week all at once to research this topic, I do hope to read, think, and write more about museums and race.   Another topic, not unrelated to the race issue, is the public value of museums, a topic that has been discussed for many years and which is the subject of a new book edited by Carol Scott from the UK.  You can find it on Amazon.
If you could ask anyone at all to write a guest post for your blog (you can be as utopian as you like), who would you chose and what would you ask them to write about?
I have two candidates.
 If Stephen Weil were still alive, I would ask him to guest blog about museums' public value, a topic he practically invented.  Actually I would hope he would be writing a museum blog himself.
I would love to have Azie Dungey, creator and star of the YouTube series "Ask a Slave"   write a guest blog on museums and race.  An African American, Azie worked as a first person interpreter at a number of historic sites including Mount Vernon.  Her program features Lizzie Mae, an enslaved person who answers actual questions that Azie received about slave life from museum visitors.  Watch it and weep- yet Azie incorporates humor as well.
 What was your first museum job?
My first museum job was as an intern at the Museum of African Art on Capitol Hill in Washington, DC.  It was a private museum at the time, but was in the process of being incorporated into the Smithsonian.  I lived in Montreal for 10 years in the 1970s and got an MA in African and European history there.  When I decided to return to the U.S., it was not a good time to look for a job in academia.  A pamphlet from the American Historical Association on alternative careers for history majors discussed internships in museums. I had often used museums in my teaching and so decided to apply for an internship at AfA and was accepted.  I was made the Docent Coordinator (I had to look up the word "docent") and just loved it. Within a year the museum became a part of the Smithsonian and all staff became Smithsonian employees.  That was 1978, and I've been in museums ever since.
What was the last museum you visited and how was it?
A few weeks ago my husband and I saw two exhibitions at the Smithsonian's National Portrait Gallery.  American Cool features photographs of people who represent the essence of "cool" (according to four criteria developed by the curators) in American culture.  Dancing the Dream displays wonderful still photos that capture the movements of some of American's greatest dancers, from Fred and Ginger to Beyonce'. There is well-selected video in all galleries as well.  Both shows were incredibly interesting and engaging. It was late Sunday afternoon (the museum is open till 7:30 pm daily), both exhibitions were packed, and people were really looking at the images and reading the succinct, informative labels.  And the audience was incredibly diverse–both in terms of age and ethnicity.  There were loads of twenty-somethings especially.  Clearly the topics and their treatment resonated with local audiences.
If time and money were not an issue, which museum in the world would you most like to visit?
There are so many, but I especially would like to visit the Tate Modern.  I've been to London a couple of times in the past few years but had such a packed schedule I couldn't include The Tate.  I admire what they've done with their collections and how they approach social media. And I love the TateBall app.  If you haven't tried it, get it (free) right away!
What's the biggest lesson you have learned from failure?
Where do I start?  So many failures, so many lessons…. The reason I want to write more about museums and race is that I have experienced so many moments of truth when I've worked with African American colleagues and volunteers.  I've been lucky enough to have had African American friends and colleagues who felt they could speak frankly with me about things I or others have said or done in the museum context that they experienced as insensitive.   I've also learned more about culturally sensitive issues since my trips to India.  I believe these experiences have made me more comfortable in talking about racial and cultural sensitivities because so often I can use myself as an example.
If you could work anywhere, what museum would you like to work in?
I am so happy doing what I'm doing right now in the museum world that there is no museum I would like to work in.  I'm going to be giving up the editorship soon, but have plans for other kinds of museum involvement.  Editing, teaching, blogging (and tweeting) about museums is exactly where I want to be.  I get to think broadly about the field, track down and discover new issues, meet great colleagues through social media and travel­–all without the endless meetings and the political minefields that are unfortunately the lot of anyone working in museums today.
Questions I'd like other bloggers to answer.  I'm tagging Max Van Balgooy, Dana Allen-Greil, and Rebecca Herz, asking them to answer these questions, and then to send a list of these or their own questions to bloggers they enjoy reading.
1.Who are you and what do you like about blogging?
2.What search terms lead people to your blog?
3. How long have you been blogging, and has your blog changed in any way since you began it?  How?
4. Do you have a sense about what impact museum bloggers have in the field?
5. If you had a whole week just to blog: which subject would you like to thoroughly research  and write about?
6.  If you could ask anyone to be a guest blogger, who would that  be?
 7. Share your favorite photo with us that you took at a museum or historic site.
8.  What was the last museum you visited and what was the experience like?
9.  If time and money were no object, what museum would you most like to visit?
10.What's the biggest lesson you have learned from failure?
11.  If you had to identify the biggest issue for museums (globally) today, what would it be?
If this post is being sent to you by email and you would like to subscribe or add a comment, please click on Museum Commons Thanks!